http://www.thechiefly.com/culture/trailer-amazing-spider-man-2/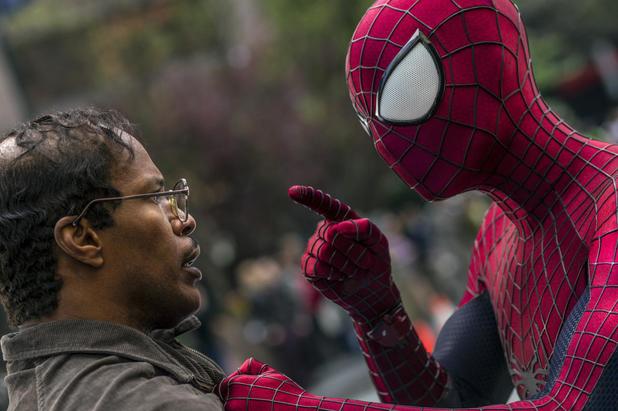 "The Amazing Spider-Man 2″ recently released their official trailer for the highly anticipated sequel from director Mark Webb, due to be released this May.
The sequel revolves around Spider-Man, played by "The Social Network" star Andrew Garfield, battling against Jamie Foxx as electricity manipulating Marvel villain Electro. If he's anything like Foxx's character in Django Unchained Spider-Man may finally meet his demise.
It also turns out that Spider Man's enemies all have a connection to OsCorp. Surprise surprise! There's also a chance that Peter Parker's old friend Harry Osborn, portrayed by Dane DeHaan, might be returning to his villainous ways as well. Mainly because he looks creepy as ever.
While the action and science fiction moments look intense, it also looks like there will be some more charming chemistry with Peter and the lovely Gwen Stacy, played by Emma Stone. Garfield and Stone have a special bond with their characters that is rarely seen in superhero flicks; the two talk to each other like a couple of awkward teenagers choking on their words while simultaneously making each other giggle. It's nice to see a couple in a blockbuster hit that real world couples can relate to.
As for the plot, it looks as if OsCorp is spying on Peter, and no one knows why. Could it be his superpowers? Tune in next week to find out! There's also something going on with Aunt May because it appears that she knows about OsCorp, but is making an attempt to protect her nephew…or it could be something more intricate…you won't find spoilers here.
Hopefully we'll get some answers on Peter's connection with OsCorp- who they are, what they want with Peter and why they're connected to Electro, as well as potentially evil Harry. This sequel promises to be filled with the best kind of plot twists. And rather than a bunch of ridiculous special effects, there will actually be a story that's worth paying attention to. Gasp! Though be assured, there will be no short of action in this one. Watch the trailer for ten seconds and you'll be well aware of that fact.
As for the characters, Andrew Garfield looks fascinating as Spider-Man with his soft voice, beautiful smile and appealing haircut. Emma Stone is…well, Emma Stone. Adorable and fantastic as always.
"The Amazing Spider-Man 2″ will be hitting theaters on May 2, 2014.