https://www.thechiefly.com/sports/super-bowl-new-york-cold/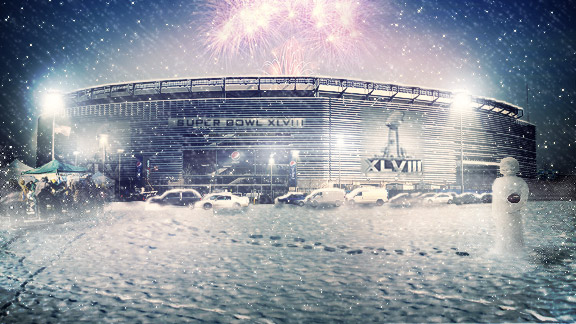 ESPN.com Illustration
I don't want to see the Super Bowl played in the cold.
I don't care if it's being played in New Jersey. I don't care if the largest media market in North America has to have a Super Bowl played in its backyard.
I don't care about any of those things.
I want the Super Bowl to be played in warm weather, vacation paradises. Not in cold, stuffy big cities. Now don't get me wrong. There is nothing wrong with New York. I love New York. It has everything you could want in a city: Great food, hustle and bustle, lots to do and great nightlife. It can be beautiful in the spring and fall.
But should it be hosting the premier sporting event in the world? No.
Neither should Detroit, Indianapolis, Minnesota, Philly, New England or any other city that sits north of the Mason-Dixon line.
Listen, the Super Bowl is one of the biggest parties/vacations on the planet. Why would you want to spend your vacation freezing your butt off with snow flying in your face? You want to be somewhere with all the vibrancy and culture of a northern city without the white stuff. You want sunshine, palm trees, warmth and great nightlife. And you can sure the players do too.
There is a reason that the Super Bowl is mostly always played in the sunbelt. It's because cities such as Miami, Tampa, New Orleans, Phoenix and San Diego offer everything that a visitor could want in a Super Bowl destination. Now I will admit, there have been some misfires (Jacksonville was H-O-R-R-I-F-I-C) and some success stories (Indianapolis was better than expected). But there should be a rotation of cities where the Super Bowl should be played, similar to the BCS National Championship…
1) Miami: I mean, c'mon!! You have 80 degree days in January. You have sunshine, no threat of rain, palm trees, beautiful women, world famous nightlife and shopping, South Beach, I could go on and on about how Miami is the perfect city to host the Super Bowl. There's a reason that it's tied with New Orleans for the number of times hosting. Which brings us to…
2) New Orleans: One of the things that you should experience in life before you die is Bourbon Street during Super Bowl week. There are no words to describe it.
3) Tampa: It's a little sleepier than Miami ( I mean the bars close at 3 AM here. Bummer). But Tampa does offer the same amenities that Miami offers: Beautiful woman, beaches (Clearwater and St. Pete this time) palm trees and warmth. Throw in Busch Gardens and you have yourself a premiere Super Bowl destination.
4) San Diego: Beaches (seeing a trend here?), gorgeous weather, theme parks, nightlife, shopping and L.A. just two hours away. What more could you ask for?
Those are the only cities that should be hosting the Super Bowl.
There are some honorable mentions such as Charlotte, Nashville and Atlanta that should be in the mix. But that's it! No other cities are worthy of hosting this event. I don't care if they already have NFL teams or not.
Now I know I will have the naysayers that will tell me that I should be grateful to be at a Super Bowl no matter where it's held. But the location makes the experience and you're not gonna get the same experience in New York like you would in Miami.
I leave you with this question: Which city would you be more excited about going to see a Super Bowl in? New York or Miami?
I rest my case.