https://www.thechiefly.com/politics/dennis-rodman-insane-outburst-defense-north-korea/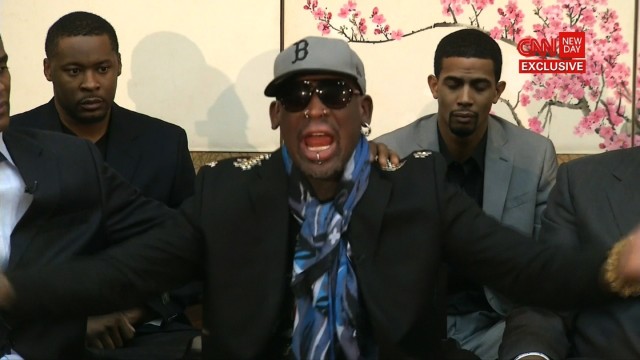 Former NBA star Dennis Rodman made yet another visit to North Korea this week, this time bringing along members of the Harlem Globetrotters to the capital city of Pyongyang. While his visits and defense of North Korean leader Kim-Jong-un have been unapologetically made known, an interview with CNN's Chris Cuomo yesterday brought on an expletive- filled temper tantrum by the attention mongrel.
When asked about Kenneth Bae, a Korean-American missionary who has been in held in North Korean captivity since May 2013, Rodman attempted to justify Bae's continuing detention and the Kim government's actions.
"If you understand what Kenneth Bae did… Do you understand what he did in this country? Why is he held captive in this country?" Rodman said.
North Korea has charged Bae with "crimes against the state" and "hostile acts", though that is not confirmed nor has the North Korean government presented any evidence.
White House Press Secretary Jay Carney declined to make a statement regarding the CNN interview stating that he is "not going to dignify that outburst with a response," and told reporters that this trip was "private travel" and not affiliated with the U.S. government in any way.
Carney also said that the White House remains "gravely concerned" about Kenneth Bae's well-being.
You can see the relatively incomprehensible interview with CNN's Chris Cuomo here: