https://www.thechiefly.com/features/winter-meetings-mlb-recap/
This year's MLB winter meetings served more as a backdrop to the ridiculously busy previous week than anything else. Just prior to baseball's annual December tweet-and-greet, the Yankees went on a spending spree, Robinson Cano landed in Seattle on a 10-year, $240 million mega-deal, Doug Fister was dealt from Detroit to Washington for spare parts, and the Oakland A's made about 17 trades. And that's just a fraction of the late-November/early-December moves that went down.
The winter meetings would trudge on, though, with plenty of offseason script to be written. Heading into Orlando, prominent outfielders like Shin-Soo Choo, Nelson Cruz, and Curtis Granderson were still unsigned; rumors were swirling about potential trades involving Matt Kemp, David Price, and Mark Trumbo; and the Masahiro Tanaka sweepstakes hadn't even started. It's time to recap some of the biggest moves (and non-moves) that went down during the winter meetings.
Shin-Shoo Choo remains unsigned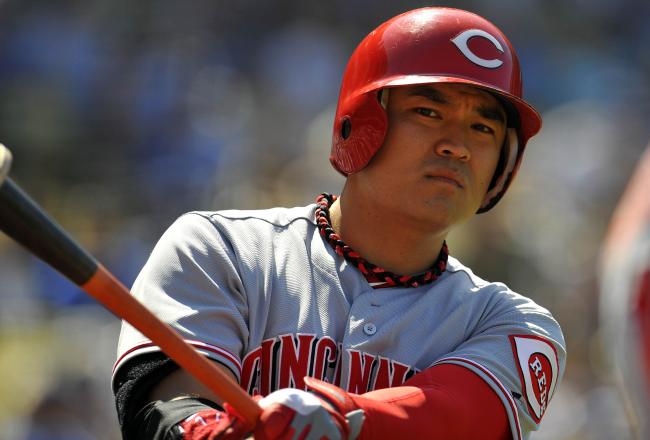 The left-handed hitting outfielder Shin-Soo Choo, ranked third on R.J. Anderson's top 50 list, is the best free agent available. Jon Heyman projected that Choo would sign six-year, $120 million deal prior to the offseason, and his predictions have been remarkably accurate so far.
Choo is an excellent all-around player. His .423 on-base percentage last year was second in the National League (fourth in MLB), trailing only perennial on-base king and fellow Cincinnati Red Joey Votto. In fact, since Choo emerged as a full-time player in 2008, he's quietly been one of the best hitters in the game.
Since then, according to Baseball Reference's Play Index, Choo is ranked eighth in on-base percentage (.392) among players with at least 2000 plate appearances. He ranks third over that period in OPS+ (137), tied with Giancarlo Stanton and ahead of players like David Wright, Carlos Beltran, and Robinson Cano. Limiting inclusion to just outfielders bumps Choo to first and fifth, respectively, in those two lists.
Choo supplements his dynamic bat with a broad skill-set. He's stolen at least 20 bases in all four of his full seasons and he hasn't made a trip to the disabled list since late-2011 with an oblique strain. While he doesn't have the defensive chops to play an everyday center fielder regularly (at least not well), he's not a liability in right and his arm generally rates as average-to-plus.
While Choo may still be an underrated asset overall, especially compared to someone like Jacoby Ellsbury who has more panache to go with gaudy stolen base totals, it's not as though teams don't properly value on-base percentage these days. Choo still hasn't signed, but he has Scott Boras in his corner and apparently plenty of interest on the market; he'll likely ink a deal soon for a figure north of $100 million.
Mets add Curtis Granderson and Bartolo Colon
New York Mets' outfielders slashed just .238/.301/.384 last year, and they traded their biggest threat in Marlon Byrd to the Pirates in August. The Mets had big holes to fill in the outfield this offseason and after adding Chris Young on a one-year, $7.25 million flyer in November, they inked former crosstown rival Curtis Granderson to a four-year, $60 million deal.
Granderson has slowly transformed from a well-rounded player in Detroit to more of a one-dimensional power threat with the Yankees. In New York his strikeout rates ballooned to nearly 30 percent over the past two seasons, he's no longer a defensive asset in center, and he's hit as many triples (23) from 2010-2013 as he did in 2007 alone. He also popped 84 home runs in 2011 and 2012 combined, where he had only reached 30 in a season once in Detroit.
Part of that transition was simply a change in parks. Yankee Stadium increases home runs by 28 percent for left-handed hitters, while Comerica is essentially league-average. Another part of the transition involves Granderson's age; he was a 20-something year-old outfielder while patrolling center fielder in Detroit, but he'll be 33 in his debut season with the Mets.
Granderson certainly adds positive value to the Mets' outfield situation, but he does that at a pretty hefty price. The shift to a corner due to Granderson's defensive decline is necessary, and it'll put significant pressure on his bat to turn the corner. Granderson won't be able to rely on depositing fly balls into the short porch, forcing him to have to reclaim some of the all-around style that made him successful in Detroit. Coming off an injury-plagued age-32 season, that isn't always the easiest thing to do.
With ace Matt Harvey expected to miss all of 2014 with Tommy John surgery, the Mets also needed to add some starting rotation depth to a now shaky Harvey-less staff that features Zach Wheeler, Dillon Gee, Jon Niese, and Jenrry Mejia as its prominent members. They did that during the winter meetings by signing ageless wonder Bartolo Colon to a two-year, $20 million deal.
At what age did Colon record both his best strikeout-to-walk ratio and FIP?
40. That's right — he set career marks with a 4.03 K/BB ratio and a 3.23 FIP last year with the Oakland A's. He also recorded his second best ERA+ and rWAR last year. For age-40 or older pitching seasons, Colon's 5.0 rWAR and 141 ERA+ rank 13th and 10th, respectively, behind such age-defying hurlers as Randy Johnson, Nolan Ryan, and Roger Clemens.
You'll notice Johnson, Ryan, and Clemens were all power pitchers, while Colon does his work with well-located 89 mile-per-hour fastballs. Finding pitchers similar to Colon is a chore. How about: pitchers with at least 300 innings in their age-39 and -40 seasons, an ERA+ over 120, a K/BB ratio over three, and a K/9 under 8. In other words, pitchers with similar late-career performance to Colon.
That list turns up one name other than Colon: Curt Schilling (2006-'07). Pitchers similar to Colon – old, finesse guys — generally don't exist. There have been exceptions, of course, like Jamie Moyer and David Wells. Either way, you're not going to find a lot of success for pitchers beyond age 40. Only 10 have accumulated 4+ rWAR combined in their age-41 and -42 seasons, and two of them were knuckleballers.
Colon's aforementioned age plus the fact that he's made at least one appearance on the DL in every season since 2006 – not counting 2010 when he missed the entire season with shoulder problems – make him a prime injury candidate. Not to mention, the lack of comparable pitchers make any projection tenuous.
With Harvey out for all of 2014, Colon slots in as the short-term ace in the Mets' rotation. A two-year, $20 million contract buys more of a lottery ticket than an established big-league starter these days, and Colon's a little of both heading into 2014.
Pirates sign Edinson Volquez, extend Charlie Morton
Right-handed starting pitcher Edinson Volquez has three numbers in black ink – to denote a league-leading stat — on his Baseball Reference page; Hit-by-pitches (14) in 2008, walks (105) in 2012, and earned runs (108) in 2013. That about sums him up. Volquez had his last effective year in 2008 with the Cincinnati Reds. He followed that with three injured/ineffective years in Cincy, and was dealt to the Padres as part of the Mat Latos trade in December of 2011.
San Diego figured to be an ideal, pitcher-friendly location for Volquez to redeem his value. It wasn't. After a debut season in San Diego that featured 182 2/3s innings of below average/above replacement level performance, Volquez completely fell apart in 2013, posting a 5.71 ERA between the Padres and his brief stop with the Dodgers. His negative-2.4 rWAR in 2013 rates as the 26th worst season of all-time among pitchers with at least 100 innings pitched. You could have transported Volquez back into the middle of The Deadball Era last year and still been lucky to get a 4.00 ERA.
The Pittsburgh Pirates have had as much success as any team with reclamation project pitchers in recent years, highlighted by Francisco Liriano's return to prominence last season. Whether it's pitching coach Ray Searage, a shifting defense, or Russell Martin's pitch framing behind the plate, the Pirates have seemingly found a successful formula for turning projects like Volquez into usable commodities. And if you squint closely enough, you might be able to find a touch of upside with Volquez. (For instance, he induces ground balls at a good clip and has better fielding independent pitching metrics than his ERAs.)
Still, Volquez posted a 4.96 ERA in one of the pitching-friendliest locales in all of baseball during his two year stint in San Diego, and he wasn't great in the three years prior to that. He also turned 30 years old in July. If the Pirates are able to turn Volquez back into a reliable starter, everyone involved deserves a raise.
The Pirates also extended 30-year-old right hander Charlie Morton to a three-year, $21 million deal (plus a 2017 $9.5 million club option). Morton would have been in his last year of arbitration-eligibility in 2014, so the Pirates essentially grabbed his first two (or three, if they pick up the extension) free agent years for two years and $17 million. Morton, in turn, traded a little upside potential on the free market next offseason for contract security.
Morton missed significant portions of both 2012 and 2013 with Tommy John surgery, pitching just 166 1/3 innings over that time frame. His biggest weapon is a sinkerball that's produced a career groundball rate of 55 percent and aided a .73 HR/9 mark.
The overall career results haven't been all that exciting, really, but perhaps a solid 2011 along with the promising post-surgery return last year was enough for the Pirates. With the going rate for pitching on the free agent market, there are worse ways to spend money than securing back-end rotation help for $7 million a year
There were a number of other moves made during the winter meetings, but since this article has gotten a bit unwieldy in length already, we'll send you off with links to analysis of a few of them. Mark Trumbo was dealt from the Angels to the Diamondbacks as part of a three-team deal, the Seattle Mariners added Corey Hart and Logan Morrison, and the Giants signed Michael Morse.