https://www.thechiefly.com/culture/breathtaking-winter-vacation-destinations/
Tired of spending your winter holiday sans snow? Simply looking for a new winter hotspot (only figuratively speaking)? Wishing to satisfy your inner thirst for exploration? Then this list is for you! Among these gorgeous cities is a place for anyone – the adventurous, the romantic, the cultured, and the athletic. Remember to pack your camera and your heaviest coat as you head towards these cool spots from all across the globe.
1) Prague, Czech Republic
The stunning fairytale architecture of this historic city is enhanced by the thin sheet of snow covering every roof top. With tourism relatively low in these months, history buffs will get to enjoy the beautiful Prague Castle without the push of the crowd. Although the popular Christmas markets are done for the year, the city is full of ice skating rinks, concert halls, and cafes with warm mugs of coffee. It might be a fun Valentine's trip for that extra special someone, or a fun adventure for the whole family.
2) Lapland, Finland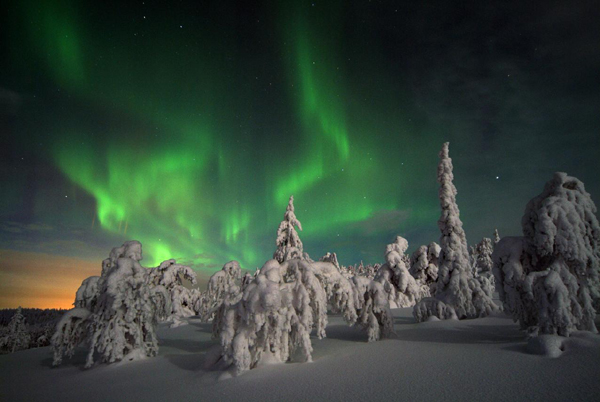 Speaking of Valentine's Day, you can literally sleep in an igloo of thermal glass at the Hotel Kakslauttannen in Lapland, one of the best places in the Nordic region to view the famous aurora borealis. What could be more romantic than that? And, while Christmas has already passed, the Finnish believe that Santa himself resides in this town; tourists can visit Santa Claus Village where they will get to meet the jolly old man himself. You can also watch classic holiday favorites and enjoy enchanting decorations at their Christmas Exhibition.
3) Ottawa, Canada
While, of course, there's also the beautiful Montreal along with other attractive cities in this vast country, Ottawa is famous for its Winterlude festival throughout the month of February. This year, it will be on the weekends from January 31st to February 17th. The celebratory atmosphere is never ceasing, with some of the highlights coming up this year being an ice carving competition, the Gatineau Winter Beerfest (drinking age is 18 in Canada), and a myriad of slides to ride at the Snowflake Kingdom.
4) New York, New York
For all the United States readers who are looking for a vacation, but don't want to leave the country, these next two are for you. New York, of course, is a classic tourist destination, but no one could get a better sense of the city's pulse than in the winter. Ice skate at the quintessential Rockefeller Plaza, then maybe warm up by catching a show on Broadway. It's pretty easy to get cheap tickets to amazing shows at the TKTS booth. As you enjoy the city, make sure to notice the incredible winter fashion all around you with the New York style being one of the most eccentric and eclectic in the world.
5) Washington, D.C.
Again, another classic tourist destination, but it's undeniable that our nation's capital is absolutely beautiful in the snow. Of course, the winter season is typically most exciting around Christmas time with the National Tree, masterful productions of the Nutcracker, and stunning light displays all around. Some recent highlights however: Bao Bao, the baby panda cub, has made her debut and the Smithsonian dinosaur exhibit will soon be closing for renovations and should be caught before its gone. For a night indoors, DC is also home to a fabulous music scene with Black Cat, 9:30 Club, and other great venues.
6) Hong Kong, China
The Chinese New Year begins January 31st for 2014, and all the major cities in the country will soon be celebrating the beginning of a new cycle. The Year of the Horse is ending to begin The Year of the Sheep. Hong Kong is a great place to start for travelers taking their first trip to the overwhelming country, but more those with more experience might check out the festivities in Beijing. However, Hong Kong's non-stop events over the weeks of the holiday are pretty famous in their own right, with crowded flower markets, spiritual temples, breathtaking pyrotechnics, and, of course, plenty of food.
7) Nagano, Japan
Having hosted the Winter Olympics in 1998, Nagano is a great place to explore challenging ski slopes and then relax  in the natural hot springs after a long day of fun. Buddhist temples are enhanced by the powdering of snow on their roofs and folklore lovers can check out the nearby Togakushi Minzoku-kan  musuem for information on ninjas that used to train here. Finally, if anyone ever gets the impulse for a more urban exploration, Nagano has easy rail and expressway access to Tokyo, Kyoto, Nagoya, and other urban centers. And that's only a taste of the exciting opportunities in the surrounding area.
8) Antarctica
This is for the daring and brave adventurers out there. The peculiar beauty of the ice covered continent has been described as haunting  and spectacular. There are many different Polar Cruises that offer a variety of different experiences around the white land, so make sure to do research to pick the favorite one for you.
Whether contemplating an impulse adventure or already planning for next winter vacation, all of these sites contain sweet memories just waiting to be made. Wherever you end up going, make sure to take care of yourself; if you let Jack Frost nip at your nose too much, he might end up giving you frostbite. And that is never fun.