http://www.thechiefly.com/sports/26-best-worst-football-moments-2013/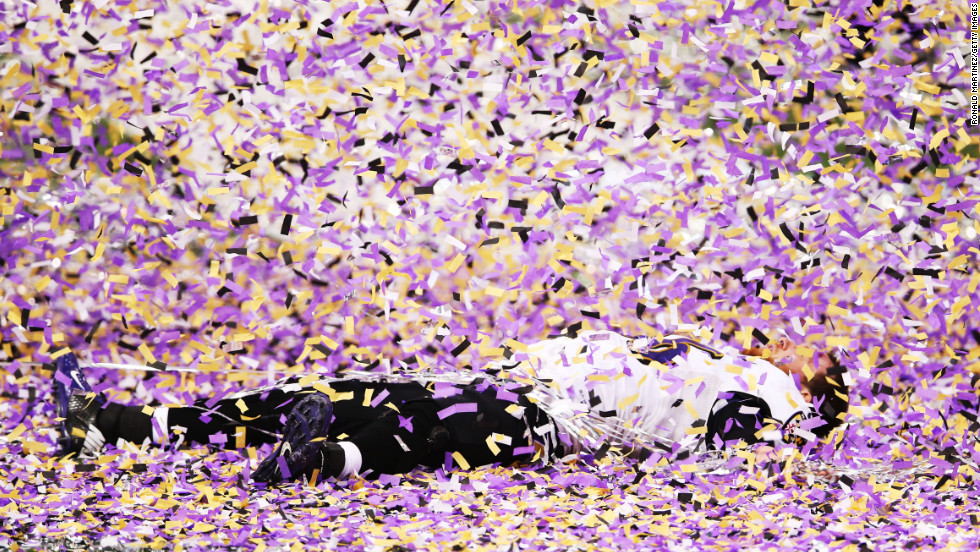 The first of our four part series reviewing the sports year that was is ready to dive into football on New Year's Day. So sit back, cure that hangover with some scrambled eggs, and relive the best stories and moments from 2013.

1) Rahim Moore. We'll start this year in review with the first notable sports moment of 2013, a play that launched a Super Bowl run. NFL fans will be remembering this gaffe for a long time, while Bronco fans (like this one) will spend the rest of their days doing everything they can to forget it.
2) Super Bowl. In one of the weirdest Super Bowls in recent memory, the Ravens downed the 49ers 34-31 in a wacky and exciting contest. John Harbaugh got angry. "The Pope" performed at halftime. Jacoby Jones opened the 2nd half with a touchdown before Roger Goodell turned off the lights to give San Francisco time to regroup (at least that's Ray Lewis' story). The game came down to one final play and controversial non-call inside the 10 yard line.
3) Jadaveon Clowney. The South Carolina defensive end capped a dominant 2012 campaign by beginning 2013 with one of the all-time great hits in college football history. If your favorite team is picking in the top five and passes on Clowney because of "motivational" concerns, you should prepare yourself to watch them pick in the top five for the next few years too.
4) RGIII. 2013 began with a brave and gutty playoff loss by the Redskins in which RGIII's knee became a real liability. The 6'2" Speedy Gonzalez with exceptional accuracy set the world on fire in 2012, and no one was quite sure what to expect from him in 2013 coming off major knee surgery.
Griffin's numbers aren't actually that different from last year's (save for an uptick in interceptions), but much of the blame for Washington's disaster has been laid at the feet of their star quarterback even though Daniel Snyder is paying 2nd bananas like Deangelo Hall, Pierre Garcon, and Brian Orakpo like they're 1st bananas. This team just isn't that talented, and 2013 was the year that realization came to the forefront.
5) Peyton Manning. At age 37, Peyton completed arguably the greatest season any quarterback has ever played, throwing his 51st touchdown pass in his 15th game and finishing with 55 total touchdowns and nearly every other major offensive record. But the greatness of Peyton Manning goes so much further than pure numbers. This picture is Peyton in a nutshell. He's healing an ankle injury while watching game tape on his iPad, all while listening to the play calls on the practice field behind him.
6) Auburn's deal with the devil. How the hell do you explain both of these plays happening in one season, with a championship on the line, let alone in one decade?
7) Lions collapse. Detroit looked to be a lock to make their first playoffs in two years and win its first playoff game in twenty two years. With a competent quarterback, a solid offensive line, and arguably the best non-QB in the league catching anything and everything thrown his way, Lions fans had real hope and optimism for the first time since Barry Sanders was making highlight plays in the backfield. Instead, they choked against the Giants and Vikings, had their hearts broken by the greatest regular season kick ever, and will spend the offseason watching football and looking for a new head coach.
8) The two most impressive regular season kicks ever. I know a lot of people will automatically say "well, the NFL record has to be the more impressive kick, right?" Wrong. Matt Prater's 64 yarder came at the end of the first half, with virtually nothing to lose. Granted, he kicked it in 0 degree weather which mitigates a good deal of the advantage he has kicking at altitude (because it's like kicking a rock at that point), but Justin Tucker's field goal came on the road with his whole season on the line. A season saving (at the time) 61 yard field goal is almost good enough to garner MVP votes…almost.
9) Life without Aaron Rodgers in the Frozen Tundra. Packers fans have had a rough year, but to be fair, they were due for one. Aaron Rodgers' injury torpedoed their hopes to ascend back to the top of the NFC, although thanks to the aforementioned Lions screw-up, they still won the mediocre NFC North.
10) Chip Kelly bolts for the NFL. "His offense will revolutionize football!" "He's overrated!" "He's in over his head!" "Wait…Nick Foles is actually kind of good!" "No, wait…Nick Foles is actually really good!" "Chip Kelly is a genius!"
11) Romocoaster. These are career numbers, tell me, who would you rather have?
Player A: 64.6%, 208 TD-101 Int, 95.8 QB rating, 20 4th quarter comeback wins
Player B: 65.9%, 359 TD-177 Int, 95 QB rating, 22 4th quarter comeback wins
Tony Romo is painted as a mediocre quarterback and a sure-fire choker at the end of games, while Drew Brees is sitting comfortably on the current quarterback Mount Rushmore, yet their career numbers are remarkably similar (A is Romo, B is Brees). Yes, Romo sometimes makes mistakes at the end of games, but no one has to bail their defense out more often than Romo.
12) Eli's interceptions. I looked into it and there's no truth to the rumor that Eli is trying to obtain the neuralizer from Men in Black and use it on America on New Year's Eve in order to forget that 2013 ever happened. His 27 interceptions, 57.5 completion percentage, and miniscule 5.4 yards per attempt are all just awful. Remember the days when people would rather have Eli than Peyton? Sports are funny.
13) Carolina's Defense. Cam Newton gets a lot of credit for Carolina's dramatic improvement this year even though his numbers look remarkably similar to his career numbers. What has elevated this team is their terrific front seven, captained by superstar linebacker Luke Kuechly.
14) Falcons lose all of 2013. Atlanta began 2013 with Super Bowl dreams and ended with hopes of finishing low enough to draft Jadaveon Clowney. What happened? Injuries of course, but this team also wasn't that good in the trenches or on defense, and this year it finally caught up to them. That said, not many top five drafting teams have playoff caliber talent at quarterback and at wide receiver.
15) MRSA in Tampa Bay. It's easy to laugh at this. After all, they're supposedly a professional football team. Contracting something like MRSA just shouldn't happen given the resources that the NFL has. This is a serious issue and I hope that the NFL puts in place some sort of policy to avoid more cases in the future. I mean, when a team has to clean your locker room in hazmat suits, you've crossed the line from punch line to embarrassment.
16) Seattle finally loses at home. Hell of a way to end a 14 game home win streak, huh?
17) Colin Kaepernick. Is he good? He's obviously not bad, but he might have the highest spread between his ceiling and his floor of any quarterback in the NFL. In his first full regular season, he still looked like a good quarterback, but not the dominant player who set a playoff record for QB's with 181 yards rushing (and 263 yards passing) against Green Bay. Whatever you think about Kaepernick, one thing is clear: Jim Harbaugh made the right move by benching Alex Smith.
18) Kansas City Resurgence. The Chiefs took the most anonymous #1 pick in recent memory (Western Michigan tackle Eric Fisher), and by the end of the year established themselves as one of the most feared teams in the AFC, sending more players to the Pro Bowl than anyone else.
Alex Smith has played his usual efficient, uninspiring, mistake-free football, and Jamaal Charles staged a coup to take Adrian Peterson's throne as the best RB in the league. If it weren't for Peyton's record breaking season, Charles probably would win MVP.
19) Robert Quinn. I'm willing to guess that less than 5% of NFL fans knew who Quinn was at the outset of 2013. That all changed this season as he mounted a campaign that should win him the Defensive Player of the Year Award despite playing in relative anonymity in St. Louis. If you haven't watched this guy yet, get to know him.
20) Rob Gronkowski and Aaron Hernandez. The Patriots have spent the last few years designing their offense around these two ultra-talented tight ends, but will almost assuredly go into 2014 with an entirely different game plan on offense.
They lost Aaron Hernandez forever after he allegedly murdered Odin Lloyd, a former Arena Football player. After Gronk's third major injury in as many years (more if you count the multiple surgeries to fix his broken arm), the Patriots must know that they cannot venture into the future planning their entire strategy around this injury-prone behemoth.
21) Richie Incognito and Jonathan Martin. 2013 was a banner year for anti-bullying campaigns across the country, with the Miami Dolphins providing one of the most high profile moments on the list.
Incognito, a white guy, allegedly called Martin a "half-n*****" (among other profane and offensive things). Many NFL players rallied around Incognito (including his teammates, but that might have had something to do with the fact that he was Miami's best offensive lineman) claiming that NFL culture is unique and should be left alone from outsiders. The problem is that this is the line that every industry uses who resists change.
Bullying may be a vital part of team bonding (anyone who has ever played team sports has experienced it to some degree), but society is becoming less tolerant of singling out individuals no matter the reason, and this saga provided the NFL with a bit of a wake-up call.
22) Trent Richardson to the Colts. If you're looking for reasons why the old regime in Cleveland was fired, Richardson might be front and center. The new group, led by Mike Lombardi, made one of the most lopsided NFL trades in history, somehow convincing the Colts that they were a running back with a career YPC of 3.3 away from a Super Bowl, and snagging their 2014 first rounder in the process.
23) Andrew Luck. This man can make the Richardson trade somewhat irrelevant. If you ask talent evaluators across the league who they would start a franchise with, Luck is almost a unanimous pick. Luck guided the Colts to a division title despite losing his best receiver early in the season. If the Colts can get Luck more pass catchers in 2014, the sky is the limit for this prodigy.
24) Houston's collapse. The Texans entered 2013 as the consensus third best team in the AFC behind the Broncos and Patriots. Instead, they won the "Tank for Teddy Bridgewater" sweepstakes.
25) Von Miller suspended. Von Miller ended 2012 as the consensus second best defensive player in the NFL after super-freak J.J. Watt. He decided to celebrate this accomplishment by smoking a metric ton of marijuana.
OK, so I don't have the exact figures on how much he smoked or confirmation of whether he did, but we do know that he tested positive for weed as a rookie, then intentionally spilled his urine sample while completing a test this year.
It came up positive and he was suspended for four games, then had his suspension increased to six once it was discovered that he tried to substitute another person's sample to avoid suspension. What got him caught? The fact that this second sample was submitted in a city where Von Miller was not present. "He's fast," said one source "but he's not that fast."
26) Doom's Fax saga. The second half of "Doom and Gloom" was supposed to come back to Denver after getting cut in order to take a pay cut to stay, but his agent "forgot to fax the documents" to the NFL, making Elvis Dumervil a free agent.
In the history of bullshit excuses, this one is definitely towards the top. Dumervil quickly fired his agent after realizing that he dragged his feet in order to make more money off of him in free agency and subsequently ended up in Baltimore. It still was not enough to get the defending Super Bowl champions to the playoffs though, prompting celebration from Broncos fans around the world.