http://www.thechiefly.com/features/nba-power-rankings-december-14/
It has been a maddening start to the 2013-14 NBA season. Only three teams in the Eastern Conference have winning records, the 11-14 Boston Celtics are currently the 4 seed, and the Charlotte Bobcats, everybody's favorite punching bag, are now being regarded as "contenders" in the east. Charlotte? Contenders? Is this real life?
Sadly, yes it is.
Let's be real here. The Eastern Conference Finals is already set in stone. Nobody in the East has a snowball's chance in hell to beat the Pacers or the Heat. You really think Atlanta has a chance? Or Boston? Or (let me take a drink of my Crown Royal) Charlotte????
I will answer that question for you: NO!!!!
You know what the Eastern Conference reminds me of? The 2012 Republican Primaries.
Just like lunatics such as Herman Cain, Michele Bachman and Rick Perry thought they actually had a chance to take the big seat in Washington, the fan bases in the East not living in Indiana or Miami foolishly think they have a chance.
Yea, right. Who are you fooling?
Everyone knows the NBA's true contenders lie west of the Mississippi River. The jokes lie to the east.
So let me quit my whining about how pathetic the Eastern Conference is and let's get started with The Chiefly's very first NBA Power Rankings!
1. Indiana Pacers (19-3)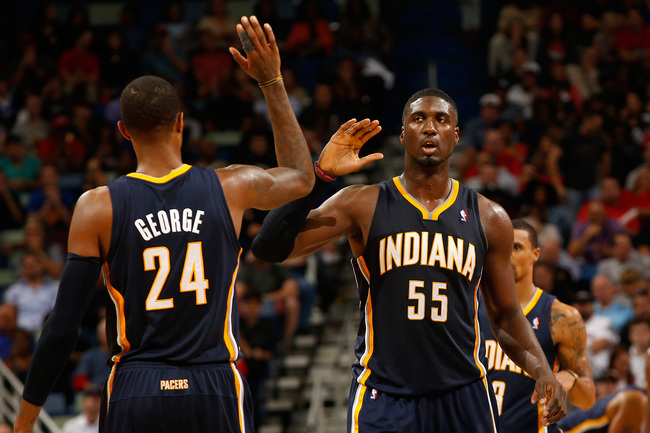 Is there any "we are completely focused on destroying the evil empire known as the Miami Heat" team out there playing exactly like that than the Pacers? You know who these Pacers remind me of? The 1990-91 Chicago Bulls, when "His Airness" and co. was hellbent on wiping the Detroit Pistons off the NBA map. These Pacers have that same mentality.
Be afraid, Miami. Be very afraid.
2. Portland Trail Blazers (19-4)
I knew the Blazers were gonna be good. But I did not know that they would be THIS GOOD! LaMarcus Aldridge and Damian Lillard is looking a lot like the second coming of Stockton and Malone, Nicolas Batum is playing the perfect sidekick and the rest of the supporting cast are playing their roles to perfection.
This team is legit.
3. Oklahoma City Thunder (17-4)
Speaking of great tandems, is their any other great tandem in the association then Kevin Durant and Russell Westbrook? I mean really, is there??
4. San Antonio Spurs (17-4)
The old-school Spurs are the team that just won't stop contending. Tim Duncan is getting better with age, Tony Parker is playing like Tony Parker and Kawhi Leonard is blossoming into one of the best two-way players in the league. The only wildcard here is Manu Ginobili, who is starting to show some wear and tear in his game. But make no mistake, as long as Run TTK is going strong, Danny Green keeps knocking down threes, Manu keeps his shot selection in check and they play Spurs like Defense, they are contenders.
5. Miami Heat (16-6)
I know what you are asking yourself right now: "Why are the Heat ranked this low??" They're down here for two reasons: 1) It looks like this Heat team is gonna take the season off and turn on the switch when the playoffs roll around and 2) They are really not playing like a team that wants to three-peat. I still think they need to trade Chris Bosh and get a big man that understands what the word "rebounding" is.
Until that happens, and they actually start playing like defending champs, they are stuck here.
6. Los Angeles Clippers (15-9)
ODD STAT ALERT: Only 5 of the Clippers 15 wins have come against teams with a winning record. Does this sound like a contender to you?
7. Houston Rockets (15-8)
Dwight Howard is actually starting to display some semblance of a post-up game! What's troubling me about the Rockets however is James Harden's "on-again, off-again" play. If he truly wants to take the next step into superstardom, he can't have games where one night he's playing "NBA Jams" like ball and the next night, it's like he is not on the court.
8. Denver Nuggets (13-8)
Brian Shaw realized that this team will never play defense. So he did the smart thing and let them play their game. And you know what, they're winning again!
9. Phoenix Suns (12-9)
The Suns are proving that the so-called "critics" are dumber than rocks. The question is: Can they sustain this momentum long enough to sneak into a low playoff seed?
Answer: Probably not.
10. Golden State Warriors (13-10)
After a buzzer-beating win against Dallas, Steph Curry proclaimed himself the second best clutch shooter in history.
In history?
Slow down young fellow! First of all, you beat a Dallas team that has not heard of the word "Defense", and second, before proclaiming yourself as one of the great clutch shooters in the game, you have to do it in the playoffs.
11. Dallas Mavericks (13-10) Who knew that the Nowitzki-Ellis experiment would work? I mean, they are really playing like a sixth-seed team right now!
12. Minnesota Timberwolves (11-11)
They are slowly starting to come together. Kevin Love is still a double-double machine and Marco Rubio and Kevin Martin are complimenting Love nicely. But they have to play better on the road (4-7) if they want to make "the jump."
Oh, and a little defense couldn't hurt either.
13. Atlanta Hawks (11-11)
It's kinda sad that the third best team in the sorry East is my 13th best team, but they are. I like how Paul Millsap, Al Hortford and Jeff Teague have formed a nice threesome and they play competent defense (99.1 points allowed). But they are still not in the same atmosphere as Miami and Indiana.
14. Charlotte Bobcats (10-12)
When was the last time the Bobcats were this high? Here is something even crazier: I actually like this team!
ODD STAT ALERT: They are the associations second-best defensive team (92.4 points allowed). Kemba Walker is playing like an all-star point guard and Al Jefferson has worked out nicely. This team has totally bought into Steve Cliffords system. Now if they would only score a few more points (90.5 ppg, dead last)…
15. New Orleans Pelicans (10-10)
I still hate, hate, HATE their nickname, but they have improved despite the mascot. Eric Gordon may have put his injury woes behind him, Jrue Holiday is finally starting to find his groove again and we have a Ryan Anderson sighting!! But it remains to be seen how long this team can stay afloat without Anthony Davis.
16. Memphis Grizzlies (10-11)
They can't score (93.5 ppg, 4th worst) and their trademark defense comes and goes (97.0 points allowed). Their best offensive player (Marc Gasol) and defensive player (Tony Allen) are both out. They have been blown out in three of their last four games. Come to think of it, I think I am being generous with this ranking. Don't be surprised to see them slip further down next week.
17. Detroit Pistons (10-13)
I'm waiting for the Josh Smith-Greg Monroe-Brandon Jennings experiment to blow up in their faces.  At least Andre Drummond is looking like the second best center in the East.
18. Washington Wizards (9-11)
John Wall is playing like a guy who earned his $80 million extension last year and Martell Webster has been a pleasant surprise (12.2 ppg/4.6 rpg). Once they get Bradley Beal back, this team is going to be interesting to watch.
19. LA Lakers (10-11)
The good news: Kobe's back!
The Bad News: They're still a bottom feeder team that plays matador defense (103.5 points allowed).
20. Chicago Bulls (8-12)
I'm being kind here, because I see no upside with this team. They have a lot of heart and they still play lockdown defense (92.7 allowed). But they have NO OFFENSE WHAT-SO-EVER (92.4 ppg)!
They will grab the 8th seed and get swept by the Pacers in the first round.
21. Cleveland Cavaliers (8-13)
There are signs of life in Cleveland! Kyrie Irving and Dion Waiters looks like they have solved their differences and they now look like a team capable of grabbing a 7 or 8 seed.
22. Brooklyn Nets (8-14)
Another team showing signs of life! Welcome back Deron Williams and Paul Pierce, but unfortunately Jason Kidd is still a horrible coach.
23. Orlando Magic (7-15)
Arron Afflalo is blossoming into an elite two-guard and Victor Oladipo is easily the best rookie this year. And they are getting healthy. Call me crazy, but Orlando looks like it's getting ready to make a run at an 8 seed.
(Kareem, you're crazy! Me: Shut it!)
24. New York Knicks (6-15)
The Knicks are finally starting to resemble an actual professional basketball team.
25. Philadelphia 76ers (7-16)
Michael Carter-Williams was looking like the truth until he went down with a sore knee. And just like that, the Philly magic has faded to black.
26. Sacramento Kings (6-14)
I am one of five people who thinks that Rudy Gay will work out for the Kings.
27. Boston Celtics (10-14)
I fully expect this team to go into tank mode after Christmas. On another note, I have a man crush on Brad Stevens.
28. Toronto Raptors (7-13)
Have officially declared themselves eligible for the Andrew Wiggins sweepstakes.
29. Utah Jazz (5-19)
The good news: Trey Burke looks like he is going to be a real player in this league. The bad news: Everything else.
30. Milwaukee Bucks (5-17)
Just move them to Seattle already.