http://www.thechiefly.com/features/college-football-awards-guide/
Since college football doesn't have the most robust set of postseason awards (quick, tell me who the Chuck Bednarik award is given to), we've decided to give you your 1st Annual "Night Before the Heisman Trophy Award Show Awards Show." Ready? Let's go.
The "I'm not a Businessman, I'm a Business, Man" Award for Complete Dominance
Winner: Florida State
To the four writers so swooned by the once in a million shot to end the Iron Bowl that they voted Auburn #1, go home, you're drunk (that or you just blindly vote the SEC Champion #1, in that case, go home, and please give up your voting privileges).
28, 55, 48, 14, 63, 37, 32, 27, 56, 56, 66, 30, 35
Nearly every single coach would sacrifice a starting safety to the football gods to ensure those scores for their offense. Thing is, those aren't point totals, they're the Seminoles' margins of victory (yeah, now you're actually looking at each one of them). Sure, FSU played some cream puffs (every powerhouse does, that's how you go undefeated), but they also faced Clemson, Miami, and Duke, and they blasted all three into the stratosphere along with the rest of the teams on their schedule. Boston College gave them the most trouble, and that was really just the first quarter; they outscored the Eagles 45-20 over the final 45 minutes. If this were the UFC, Florida State would hold the heavyweight title belt. They're the best team until Auburn proves otherwise.
Apologies to: Auburn, Baylor, Ohio State, Alabama, Northern Illinois
The "My Name…is Neo for Playing Like The One" Award
Winner: Jameis Winston
Unfortunately before we talk about Winston on the field, we must acknowledge his legal issues off the field. The Tallahassee Police seem to have either bungled the investigation to some degree or dragged their feet on it (whatever it is, something stinks), and Winston's status as the town's best hope to return FSU to dominance must be factored into the events of the past year.  All that said, actions on the field are the only things that are being considered here. There has already been an excellent piece up discussing the human element of this ordeal; this is a football-focused column only.
Simply put, Winston submitted one of the most impressive seasons any quarterback ever has, and by all accounts, should win the Heisman in a landslide. To put his numbers in perspective, we'll compare him against the last two college phenoms, who double as two of the greatest college football players of all time.
Jameis Winston: 13 Games, 13-0. 67.9%, 3,820 yards, 10.9 YPA, 38 TD-10 INT
Johnny Manziel: 13 Games, 11-2. 68%, 3,706 yards, 8.5 YPA, 26 TD-9 INT, 1,410 rush yds, 7 YPC!! 21 TD
Cam Newton: 14 Games, 14-0. 66.1%, 2854 yards, 10.2 YPA, 30 TD-7 INT, 1,473 rush yds, 5.6 YPC, 20 TD
Plenty of other players had great seasons, but Winston wins not only because he is the best college quarterback but because he is the best pro prospect too despite not being draft eligible.
Apologies to: Marcus Mariota, Bryce Petty, Derek Carr, Jordan Lynch, Andre Williams, Zach Mettenberger, Tajh Boyd, Teddy Bridgewater, and Johnny Fucking Football.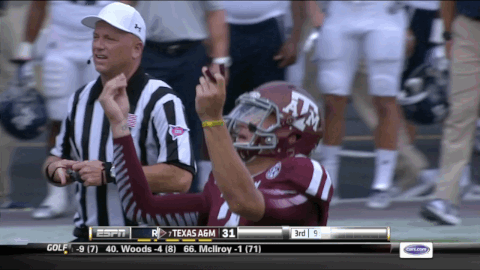 Damn straight JFF, go get paid. You've earned it.
The "Defense that Ohio State would Never Intentionally Schedule" Award
Winner: Michigan State
I'll address that shot at the Buckeyes later, but for now, the Spartans ever so slightly edge Alabama because the Tide got run over by the best offense they faced (the Johnny Fuckin' Footballs), while Michigan State turned the best offense on their schedule into a one dimensional attack that looked like every other bad to mediocre offense in the B1G (Ohio State).
Apologies to: Alabama, South Carolina, UCF (yes, really, look 'em up), Oklahoma State.

The "Miley Cyrus Excellence In Weirdness" Award
Winner: Auburn
Shaving or bleaching your eyebrows is usually a sign that things aren't going so hot for you; but not Miley. This girl is weird with a capital W (and given her upbringing, she probably should be), yet by all accounts, she has her shit mostly together, and she never has to worry about missing any meals ever again. Life is good. It is in this spirit that I hand this award over to Gus Mahlzan's beautiful nightmare that has no business being this effective.
Auburn's basic, misdirection-based attack averages about 52 rushes per game. This number isn't influenced by them winning all the time, that's just who they are. Despite how much they keep the ball on the ground, they still average 6.46 yards per carry, which puts them 4th in the nation and 1st in the SEC. They have 140 rushes of 10 or more yards on the season, good for 2nd in the nation (one behind the Buckeyes, and 42 ahead of their next closest SEC foe: Mizzou). They can also throw the ball, averaging 8.5 yards per attempt (tied for 9th in the nation) on about 20 passes-per-game.
I'm just going to throw my hat into the "Holy Freaking Moses these guys are incredible!" ring along with everyone else. Auburn might win a national championship with a high school offense! And it's legitimately devastating! And it forces you to overuse exclamation points!
Apologies to: Baylor, Oregon, Texas A&M, Ohio State, Northern Illinois
The "Kanye West Excellence In Disappointment" Award
Winner: Clemson
Kanye West's approval rating probably rests somewhere around Congress' numbers, but the popularity of his music is undeniable. If you like any rap music made between the years 1999 and 2013, Kanye probably had a hand in making it. So this award has to go to someone who ultimately disappoints us, while completing a season that very few people would call disappointing (their win over Georgia is really legit too since that was the only time the Bulldogs played a full roster all season). Bonus points for doing something shamelessly hilarious that could also be described as self-parody.
Pop quiz: Clemson started the season out on fire, beating teams handily, but collapsed at the end of the season, culminating in a disappointing loss to in-state rival South Carolina. What year is it?
2013
2012
2011
All of the above
The answer is D, of course. I know this guy who bets on college football and always goes heavy on Clemson early, then loses lots of money at the end of the year when the Tigers inevitably collapse. It's like watching Lucy pull the football out from under Charlie Brown over and over and over again. My bankroll is…I mean, this guy's bankroll is sad.
Apologies to: Stanford, Georgia, Notre Dame, South Carolina, Louisville, Oregon, Alabama, Bowling Green (for costing themselves and the rest of their conference millions of dollars by winning the MAC and knocking Northern Illinois out of the BCS)
2013's "Turn It Up" Award sponsored by Texas A&M's 2012 Award sponsored by Oklahoma State's 2011 Award sponsored by Oregon's 2010 Award, Sponsored by Grumpy Old Men for Offense that Once Again, Proves that Running up the Score Works Award
Winner: Baylor
Before I get into this, I just want to make it clear that I am not against running up the score unless it's egregiously excessive. Throwing downfield passes when you're up 45 in the 3rd quarter? Why not? It's the other team's job to stop you. But many of the crusty old types (who ironically have Heisman and AP votes) tend to deride it as "unsportsmanlike." I prefer calling it "a realistic expectation based upon the road one must travel to win a title." College football is a competition between 125 teams that up until next year, we have had to whittle down to 2. Of course win margins matter, because 11-1 vs 11-1 doesn't tell the whole story (neither does 24-0).
Baylor won the Big 12 thanks to a slip up from Oklahoma State, but it was the only team in that conference who received serious national championship consideration. This was probably due to the fact that they averaged 53.3 points per game and 10.8 yards per pass attempt and eviscerated every scrub on their schedule. Congrats Baylor, you taught us all exactly how teams will have to use the Big 12 conference from now on: like a chew toy.
The "Hey everyone! Come and see how good I look!" Award
Winner: Johnny Manziel
We didn't do these awards last year because well, The Chiefly didn't exist yet, but if we had, this would make Johnny Manziel a back-to-back winner. Jameis Winston would be the 16th best quarterback in the NFL right now, Marcus Mariota is a pro-style version of Manziel, Braxton Miller looks like Speedy Gonzales playing in the B1G and slow, there are a bunch of running backs like Ka'Deem Carey and wide receivers like Odell Beckham Jr. that electrify us every weekend, and defenders like Jadaveon Clowney who blow someone up once a game, but there is only one Johnny Fucking Football.
No one commands people's attention like JFF. He's like a cross between Brett Favre and Reggie Bush with a little bit of Stone Cold Steve Austin sprinkled in. Everything within the realm of physics seems possible for him on the football field, and if he does complete a miraculous play, he's liable to celebrate like a WWE villain. Please Johnny, stay one more year, actually…stay forever. Just for us. It's highly unlikely we'll ever see you dominate like this again in the No Fun League.
Apologies to: everyone listed above plus Aaron Murray, that dude is a gamer, too bad his team disintegrated around him this year
The "Least Impressive Accomplishment of the Past Two Years" Award
Winner: Ohio State's 24 wins in a row
Winning 24 games in a row in college football is very impressive no matter who you beat. What would make it much more extraordinary is if any of those wins came against a top five team in the nation, or even a top ten team, hell, even top fifteen. You figure that with that many games, one of them had to come against someone pretty good right? Well, you be the judge. Here are the Buckeyes' 24 wins in a row starting with last season.
2012: vs Miami (OH), vs UCF, vs Cal, vs UAB, @ #17 Michigan St (by 1), vs #21 Nebraska, @ Indiana, vs Purdue (in OT, this is effectively a loss), @ Penn St, vs Illinois, @ Wisconsin (in OT), vs #19 Michigan
 2013: vs Buffalo, vs San Diego St, @ Cal, vs Florida A&M, vs #23 Wisconsin, @ #16 Northwestern, vs Iowa, vs Penn St, @ Purdue, @ Illinois, vs Indiana, @ Michigan
So their three best road wins (out of 8 total) are at Michigan State, at Wisconsin, and… their win two weeks ago at Michigan I guess? Seriously Buckeye fans, accept that this was a fraudulent streak, and put someone who isn't one of the 30 worst teams in football on your non-conference schedule next year. You have a great team, let them prove it!
Apologies to: Notre Dame's national title appearance and subsequent disappearance, Northern Illinois' near-back to back BCS appearances, Mizzou and Auburn playing in the SEC Championship one year after combining to go 2-14 in the division
The "Underdog that was both Awesome and Kewl" Award
Winner: Duke
Some of you may recoil at your computer upon reading this, for Duke represents everything that you hate about society. For me, I see a football team that was completely anonymous before 2013. The success of Coach K had dwarfed the football program to the point where it might as well be as important to Dukies as intramural hand ball. Watching the Blue Devils navigate around a schedule sent straight from the football gods was fun to watch (their toughest road games were at Virginia Tech and North Carolina, and they avoided Florida State and Clemson, but they get a pass because they can't control that part of the schedule, and they're also not Ohio State). For the first time in nearly 80 years, Duke's football program actually mattered. How can you not be happy for everyone who works in the shadow of Cameron Indoor?
Apologies to: Derek Carr (yes, THAT Carr family), UCF, Baylor, Missouri
The "Lindsay Lohan Trainwreck" Award
Winner: Florida
Believe it or not, at one point this season, the Gators were actually a trendy national title pick. After a conference season that could best be defined by this, Will Muschamp and his crew lost a game at home…to Georgia Southern (who lost to powerhouses like Wofford, Samford, Appalachian State, and Furman)…Georgia…Freaking…Southern…at home…a team that completed as many passes that day as Lindsay Lohan has in her entire life (and Gator fans, don't blame this season on the fact that you lost Jeff Driskel, he wasn't that good in the first place, and hey, Mizzou and Ohio State lost their much better quarterbacks and they were just fine). Seriously Florida, get some help.
Apologies to: Georgia State, Kentucky, California, Miami (OH), Virginia, UMass (sigh), Purdue, Kansas, Half of Ohio State's schedule
The "Marlo Stanfield Biggest Power Play" Award
Winner: Auburn
At first, this was a tough one to figure out because there were some dramatic power shifts this year in college football. UCF can lay claim to being the #2 football program in the state of Florida at this moment, UCLA stole Los Angeles from USC, and Northern Illinois has become one of the five best football programs in the Midwest. But then my brain threw this play in my face, screaming "EFFING DUH!!!" The Tigers earned this award because their win will stay with every Auburn and Alabama fan and player until they die; UCF, UCLA, and Northern Illinois could be usurped in a few years by programs that just need the right head coach.
Side note: this is the golf equivalent of that return.
Apologies to: UCLA, UCF, Michigan State, Northern Illinois
Well that's it for the season review, check back next week for part 2's preview of the upcoming bowl season.