http://www.thechiefly.com/culture/your-eyes-deserve-these-seven-winter-getaways/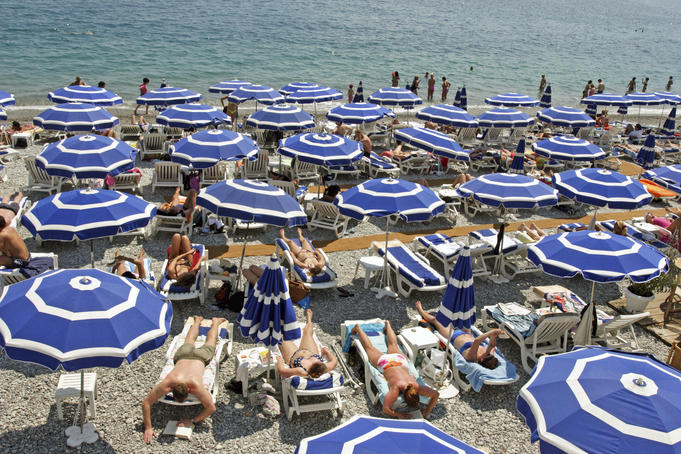 Had enough of winter? Trip away to these fantastic far lands for a bit (in body or mind). It will break your piggy bank for sure, but what delicious memories await! Here are a few of the winning destinations of my heart, so between the Golden Globes and the Oscars, quick, quick, go pack!
South of France.
Okay it's not going to be heat waves there, but a nice fresh 50 to 70 degrees, so all things considered, it's better than where you are now. The city of Nice (neece, like in fleece) is a short drive to Monaco, where you are allowed to loose the rest of your savings at the famed casino (see James Bond's Casino Royale). Last week, a very stylish Arab sheik (like in fairy tales) left a handsome one million dollar tip to the roulette table where he had just lost six millions during the course of one night. The guy had class. From there it's a jiffy to hit Italy and push down to Venice, but maybe not, as there the cold will catch up with you. Provence is always a pleasant destination with good food and amazing art; lavender and olive trees are not going to be in bloom, but the villages will be pretty much deserted of all nationalities, aside from the English.
Thailand.
Now we're talking big heat! Avoid stressed Bangkok and head for Phuket where the hot season is in full force. About 500 miles south of the capital, the region is in fact a puzzle of 33 islands where you may find yourself the only one on the sand at some locations. The island of Phuket itself is more tranquil on the North side. The entire country is now fully prepared for disasters with a new tsunami-warning system, so the terrible disaster of a few years back will never happen again.
Australia.
Down there it is summer. To narrow a bit your exploration, I suggest the same itinerary I followed. Flying from Los Angeles or San Francisco to Brisbane, instead of Sydney, is usually shorter by one hour (don't laugh, after so many hours sitting in a flying metal box, it does make a difference), and the main secret is that going through the border there is much quicker. You'll still have to dump your almonds and apples, and answer the weirdest questions to dutiful officers, but at least it won't take hours, like in Sydney, where I have had to sometimes wait up to five hours to enter the country (and I am not a bad person).
I suggest Brisbane-Fraser Island-Uluru-Melbourne-Kangaroo Island-Adelaide-Sydney, and fly out of there. I spent five weeks doing that, but you can do it in 10 days, as we drove in-between some of those spots, where you can of course fly. Planes are in Australia what bicycles are to Holland. Cheap, fast, reliable, basic. And yes, the water turns down the drain the opposite way. Don't forget that the Aussies drive on the left.
Hawaii.
Now that the Obama family is gone, with their dogs, secret service agents and other 007 apparatus, the peace and quiet are back to normal. Your choice of lying on a beach doing nada, explore some volcanoes at your own risks, hike in tropical jungles and mingle with the locals (who won't like you no matter what). The weather is idyllic, not too hot, and not too humid. I would actually now pick Hawaii over Thailand, if you ask me.
The French islands of Guadeloupe and/or Martinique.
Nice sunny warm temperature right now. Very nice wild and empty coves are plentiful, some have wild waves, no surf possible, but who wants to travel with a surfboard anyways? We explored jungles and volcanoes on our own, no tour guides in your face, maybe because I speak French, I don't know, but the groovy thing in those islands is the fact that they are French territories and carry the very same items you would find in France's supermarkets and shops. It feels bizarre to see my favorite stuff in such exotic locales, but take advantage of it and boast to your friends that you just returned from Paris, with the gifts to show for it.
Cozumel/Mexico. 
Quite nice at this time of year, easy to get to if you fly from Miami to Cancun or Cozumel. Avoid the destroyed-by-big-tourism beachfront of Cancun, but do visit the amazing sites at Tulum and Chichén Itzá, the Maya ruins, if culture is on your program. Try not to climb the pyramids though; I believe it destroys them slowly, just like the ones in Egypt, where no tourist is allowed to go up the steps any longer. Stay across the water on the island of Cozumel for any beach sport such as paddle boarding, wind surfing, and other wind-involved activity. The perk here is the Spanish cuisine, always good, always safe; you can even drink the water!
Miami and the Beaches.
If you want to play it safe and foreign destination is not your thing, then head down to the southernmost part of the United States of America. Too many things to do to list them all here, but assuming you speak either English or Spanish, you'll be just fine. Great museums, awesome food, exotic music, party time, all that is part of the culture of Miami, a unique city, heck, a country on its own! Visit the Everglades and take a tour on the funny flat boats equipped with loud plane engines that will take you gliding on the surface of the thin water, where alligators and slim tall birds share the wild land. I was never able to see a bear, but I did see a Florida panther once, it looked more like my yellow retriever than anything untamed and endangered. Café con leche, yummy. No passport needed!
Wherever you go, don't forget to bring sunscreen, and write/text/email/tweet/smoke signal to Mom. Have fun!